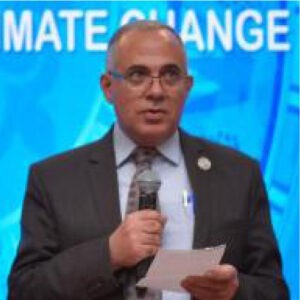 Hon. Dr. Mohamad Abdel Aty, Minister of Water Resources and Irrigation,
Arab Republic of Egypt
H.E. Dr Mohamad Abdel Aty is the Minister of Water Resources and Irrigation of Arab Republic in Egypt, member of Water and Climate Leaders Panel, he received his PhD in Irrigation and Hydraulics. He obtained his License of Hydraulic Engineering, from Sweden, and had his Master degree from UK in Management and Implementation of Development projects.  In 2006 he received two MWRI World Water Day celebration for best research awards and in 2001 he received a medal of excellence in Engineering. He is a water resources planner and manager, with more than thirty years of academic research in addition to national, regional and international practical experiences in formulating, monitoring and evaluating water plans and development policies. He has a solid international experience in climate change impacts assessment on water resources, infrastructure resilience, agriculture, flood and disaster risk management further to his broad Experience in flood preparedness and early warning systems as well as community preparedness, simulation and forecasting, flood risk mapping. He has effectively contributed to the second and fourth world water forum in Netherlands and Mexico respectively.  He worked in several countries with different cultures and gained international experiences worldwide, notably in Africa; he possesses many expertise in premises and construction management and structural design.